STREICHER Pilsen's S-Cube modular vacuum chamber system can help scientific users to maximize research productivity while simplifying and future-proofing their vacuum infrastructure requirements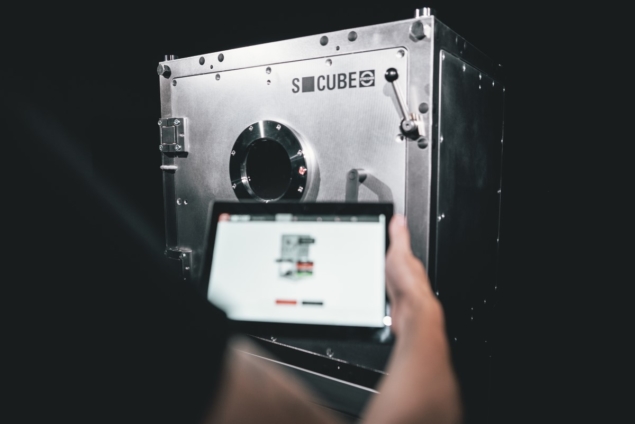 Vacuum technology is a ubiquitous presence in all manner of fundamental and applied physics research endeavours – from synchrotron light sources to semiconductor fabrication, from electron microscopy to quantum computing, and plenty more besides. Yet as any vacuum end-user knows all too well, cutting-edge research projects rarely stick to the script. As such, the process of designing, developing and manufacturing a turnkey vacuum chamber to support a diverse set of scientific applications is tricky at best and, when extrapolated over an extended timeframe, vanishingly hard to get right – not least when it comes to matching the chamber's technical specifications versus research priorities that are, by definition, always fluid and always evolving.
Now, however, the Czech vacuum equipment manufacturer STREICHER Pilsen appears to have come up with an elegant and potentially game-changing concept that has the potential to both simplify and future-proof the design of scientific vacuum systems. In short: STREICHER Pilsen's S-Cube modular vacuum chamber system offers researchers a controlled vacuum space where modification is the norm rather than the exception – an "evolve-as-you-grow" technology model that offers built-in flexibility, scalability and, as a result, many more design degrees of freedom versus conventional vacuum equipment. There's an environmental upside as well, with the modular S-Cube approach enabling vacuum users to extend the lifetime of their vacuum chambers (rather than making cyclical investments in new hardware as research priorities change).
"Our S-Cube modular vacuum concept enables modification of the existing vacuum chamber by replacing only some of the walls or by adding another extension module," explains Jiří Lopata, CEO of STREICHER Pilsen. "There is no need to manufacture a new chamber as the scientists' research requirements change – a feature that ultimately translates into significantly lower capital outlay over time. Put simply: if you can adapt your existing vacuum system, you don't need to invest in a new one."
The new rules of vacuum
Near term, the priority for Lopata and colleagues is to raise awareness of the S-Cube product concept within STREICHER Pilsen's established customer base – far from straightforward in the grips of a global pandemic. For context, the company has been manufacturing vacuum equipment and components for more than 25 years, serving OEMs and technology start-ups across a range of industries – chemical and pharmaceutical, semiconductor, food processing, heat treatment and steel manufacturing. Big science is another core market segment, with activities to date spanning high-profile projects for the Extreme Light Infrastructure (ELI) beamlines in central Europe; the Joint Institute for Nuclear Research (Dubna, Russia); and the Fusion for Energy project (which coordinates the European Union's contribution to the ITER experimental fusion reactor in France).
According to Lopata, this diverse customer base – spanning industry and R&D – provides the foundation for STREICHER Pilsen's core competency. "Our design and engineering teams have first-hand experience and deep domain knowledge about the production of custom vacuum equipment," he explains. "S-Cube is a logical progression of that collective know-how. For us, it's all about supporting the complex applications and ever-changing vacuum requirements of our customers, whether they're in a research or an industry setting."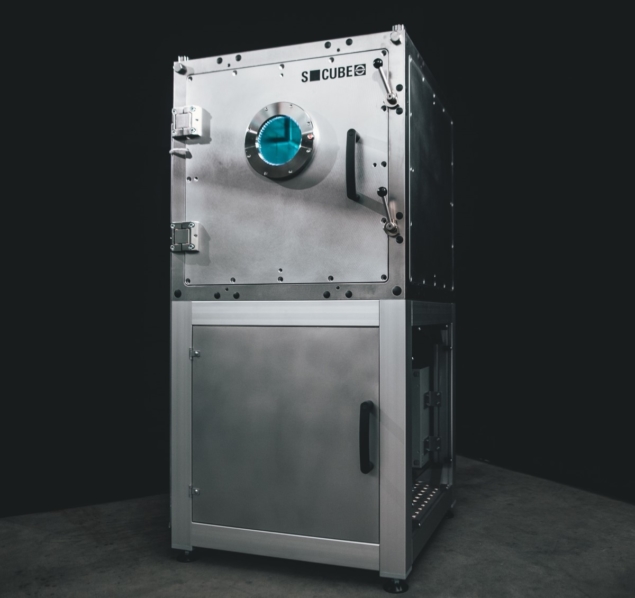 For scientific end-users of vacuum systems, what's particularly attractive about the S-Cube concept is its combination of simplicity, modularity and ease of customization – features that would be otherwise unthinkable with a conventional welded vacuum chamber. In effect, S-Cube users are able to design their own complex vacuum system by connecting – via standardized interfaces – a mix of basic building blocks comprising cubic, hexagonal and cuboid vacuum chamber modules (all available in a range of custom sizes, with wall lengths from 450 mm up to 2 m).
Yet while flexibility and customer choice are a given, there's also a broader emphasis on system-level S-Cube solutions (see "Two heads are better than one", below). "We always support our customers –not only with the design and production of the vacuum chamber, but with the entire vacuum system," says Emil Černy, head of engineering at STREICHER Pilsen. "That means expert guidance regarding the optimum choice of vacuum pumps, valves, electrical feedthroughs and vacuum gauges, as well as easy-to-use systems for vacuum process control and data visualization."
Customers also have a range of more granular options in terms of S-Cube functionality – for example, direct integration of an optical table on independent supports; specification of aluminium chamber walls within a stainless-steel system frame; as well as polished or sand-blasted internal surfaces. For now, all S-Cube chambers are compatible with low, medium and high-vacuum applications, though a planned option for metal sealing will ensure future support for ultrahigh-vacuum (UHV) systems.
 Your vacuum, your way
When it comes to market-facing activity, it's clear that S-Cube innovation also extends to the online presentation of the product offering. A case in point is the Configurator, a dedicated website that allows customers to design and optimize their own S-Cube vacuum chamber via an intuitive and easy-to-use interface. "Think collaborative product design," says Černy. "The Configurator is our shop window – a great way for new customers to get to know the basic features of the S-Cube system."
With the help of the online tools, for example, the user is able to equip removable chamber walls with a range of built-in accessories (hinges, flanges, locks and viewports), integrate an optical table, as well as define key pressure and temperature cycles. What's more, all system variants are displayed immediately in a preview that can be exported to PDF for proofing and discussion with the STREICHER Pilsen design team.
"Ultimately, our goal is to make the interface with S-Cube technology as easy to use and as accessible as possible," concludes Černy. "The Configurator puts the design capability in the hands of the customer, while our in-house technical team provides the specialist support to move them rapidly from a v1.0 specification to a finalized S-Cube chamber configuration."
Two heads are better than one
To fast-track the commercial roll-out of the S-Cube product portfolio, STREICHER Pilsen has teamed up with fellow vacuum manufacturer Edwards in what, the vendors hope, will be a win-win for vacuum customers in research and industry.
The formal collaboration kicked off earlier this year and sees STREICHER Pilsen offering a range of Edwards' technologies – pumps, sensors, leak detectors and control systems – to end-users interested in purchasing not just a vacuum chamber, but a turnkey S-Cube vacuum system. This approach to the market will open up wider commercial opportunities for STREICHER Pilsen, while Edwards stands to gain new sales channels for its diverse product portfolio as well as its after-sales support and field-service teams.
"Our two companies have complementary rather than competing technology portfolios," explains Radim Hlavaty, Edwards' regional account manager (Czech Republic and Slovakia). "It's also a logical collaboration in terms of proximity, given that Edwards has a large manufacturing facility in the Czech Republic."
Notwithstanding the commercial drivers, there are other significant upsides to consider, notes Emil Černy, head of engineering at STREICHER Pilsen. "We can see real synergies for our respective design teams and application engineers," he explains. "On our side, we're benefiting directly from Edwards' specialist capabilities in areas like vacuum simulation and system-level optimization, as well as gaining insights from their product development roadmaps for next-generation vacuum pumps."